Description
Tri-Color Laser Technology: Experience superior brightness and a wider range of colors than single laser.
4K UHD Resolution: Experience 4x the pixels of 1080p, delivering unbeatable detail and clarity
2,500 ANSI Lumens brightness: See every detail in bright, lifelike color during daylight or even with ambient lights on.
0.25:1 Ultra Short Throw: Enjoy a massive image in small space.
HDR 10: Enjoy brighter whites, deeper blacks, and true-to-life colors.
Bomaker Polaris 4K Laser TV is an ultra-short throw laser projector featured with 4K native resolution, adopting the Tri-Color Laser Technology which delivers stunning imagery and an immersive viewing experience highlighted by 2500 ANSI lumens of brightness, 2000:1 contrast ratio, 193% NTSC color gamut and ultra low noise. Every scene springs to life with finer details, more realistic colors, and deeper black levels.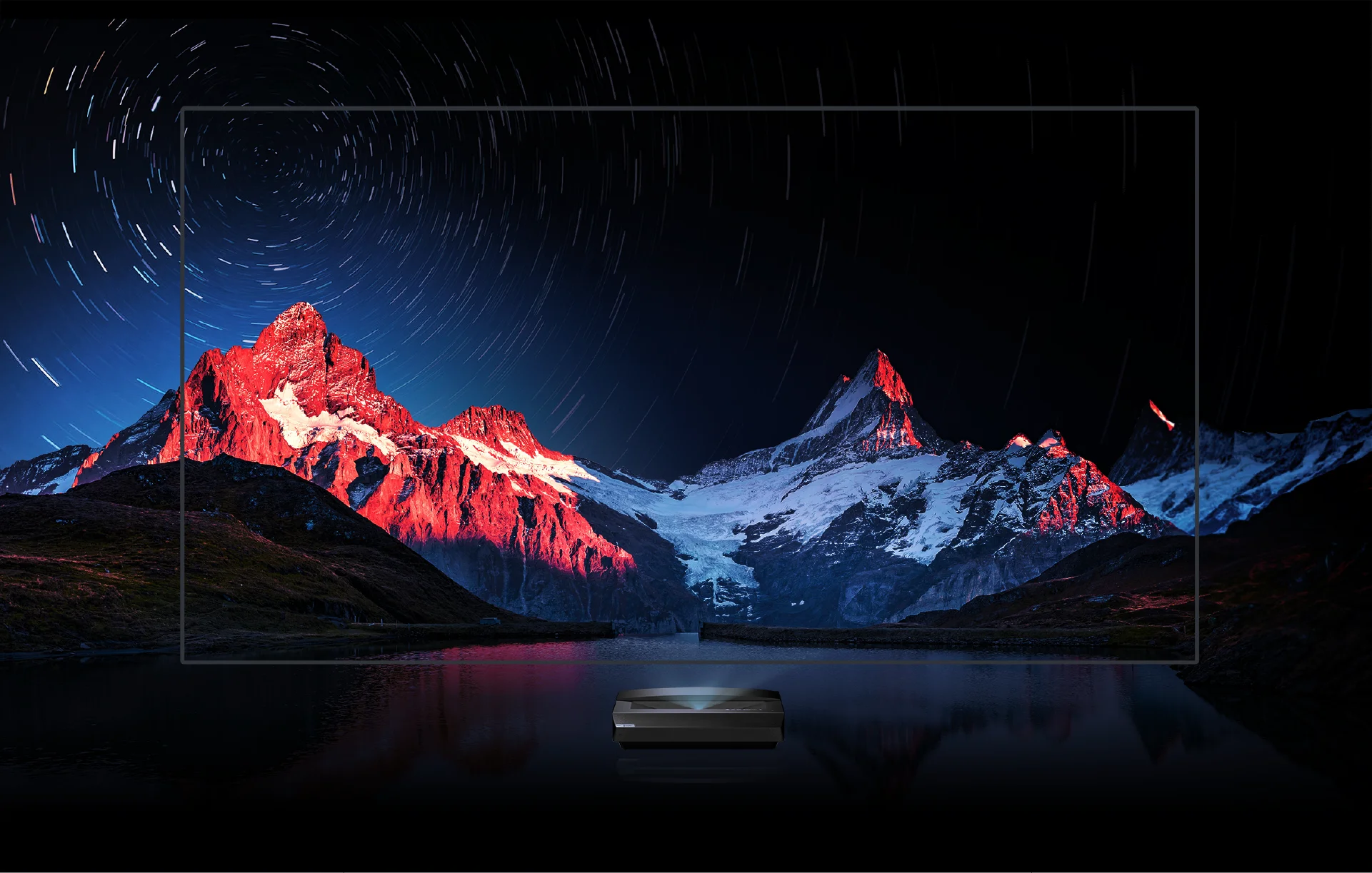 Enjoy the Future of Television

86%+NTSC Color Gamut. Achieve the Widest Color Gamut in the world
An RGB source is a light source which emits at the same time red, green and blue light. A wide range of colors can be obtained by mixing different amounts of red, green and blue light, which can express a vivid picture with virtually no color loss compared to conventional projectors with 107% NTSC color gamut (DLP, Laser and Dual Laser).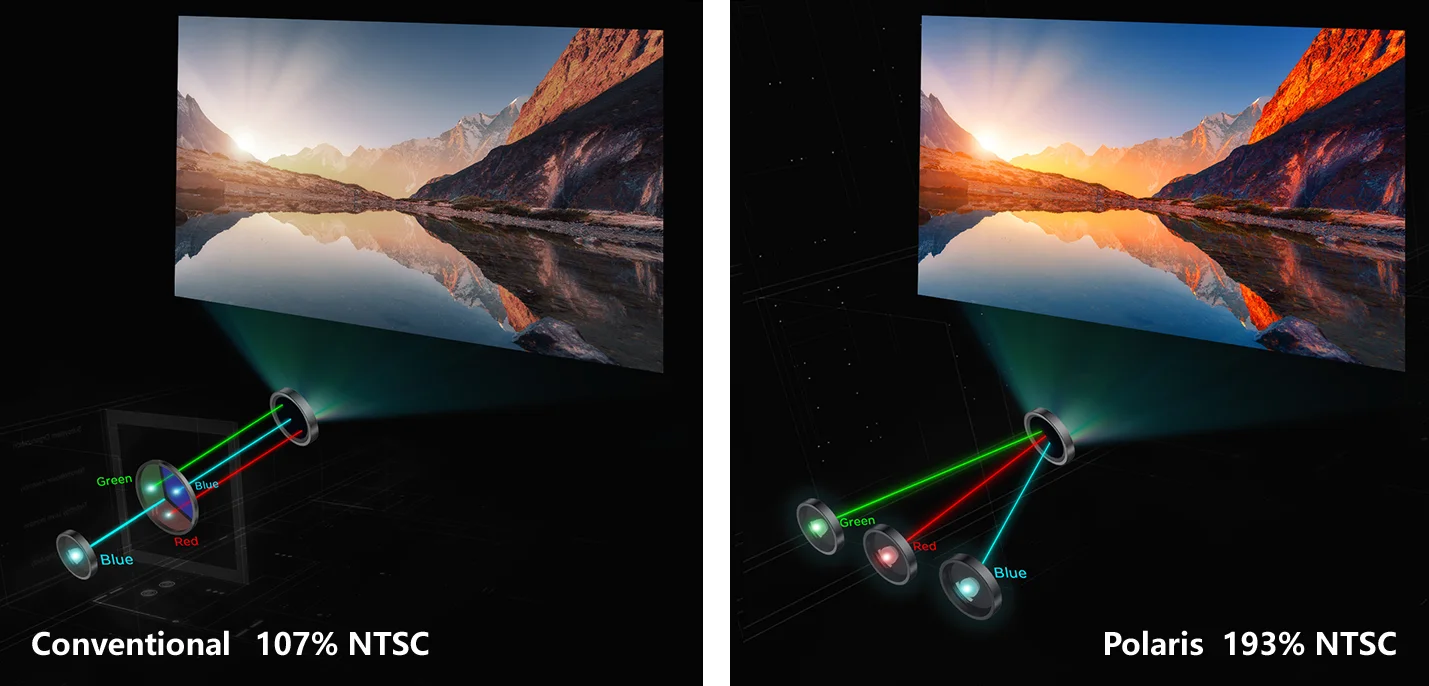 0.25:1 Ultra Short Throw Enjoy a Bigger Image in a Smaller Space
Bomaker Polaris 4K laser TV can be positioned at the front of a room like a TV and still project a display up to 150″ at a ultra short distance of 28 inch to the display surface, or 100″ at just 10 inch away with no shadows. This lets you enjoy a bigger image in a smaller space without changing your room layout. No need to deal with difficult wiring or obstructions.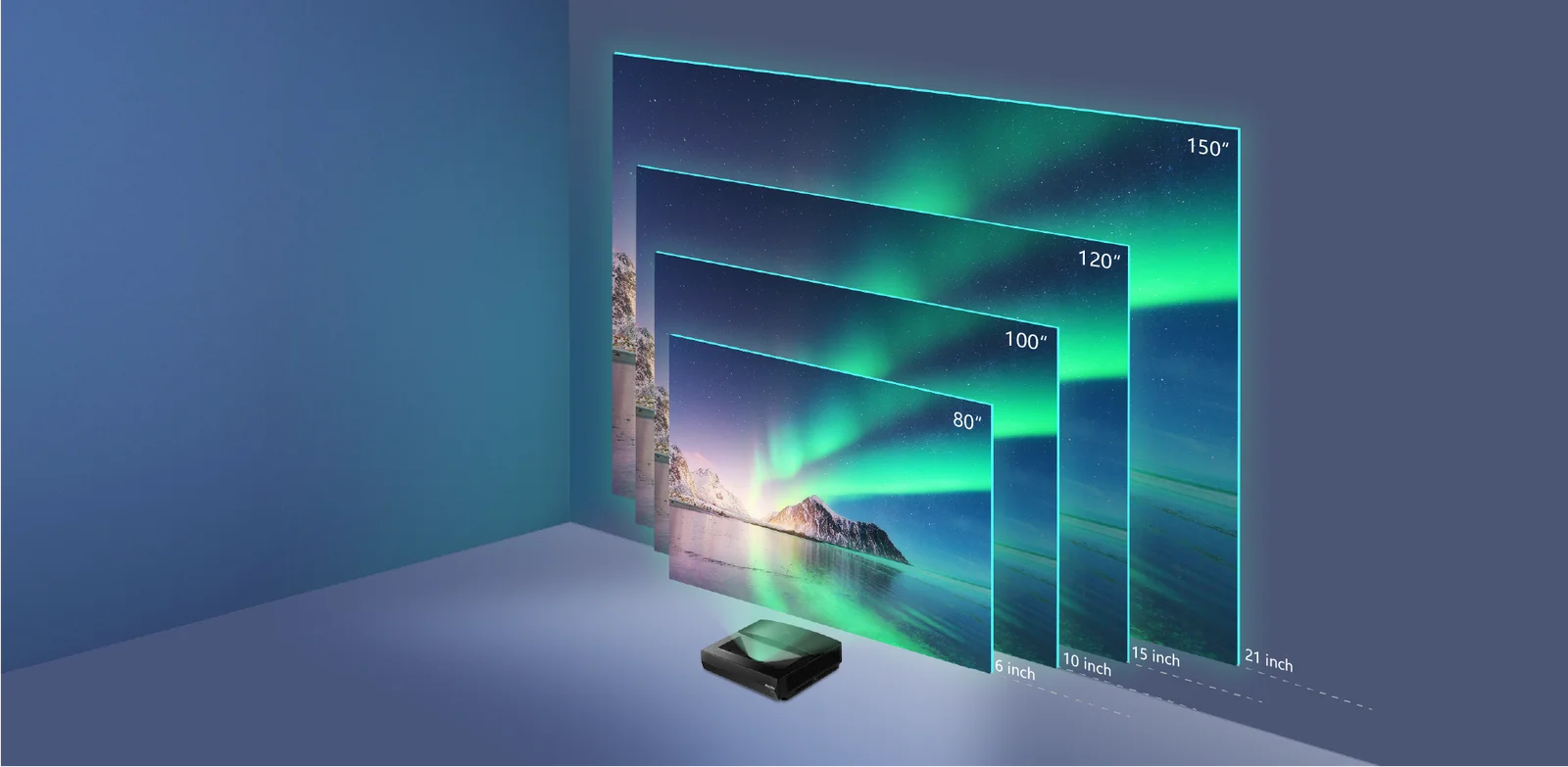 Native 4K Resolution Every Picture Comes to Life
With an incredible 8.3 million pixels (3840*2160P), and equipped with a high-end Ricoh lenses, the Polaris 4K laser TV delivers a crisper picture, more realistic colors and greater details using four times more pixels than standard HD(1920*1080P). You'll wonder how you watched movies before the Polaris.
6500 Lumen Light Source 2500 ANSI Lumen Image Brightness
Bomaker Polaris 4k reaches a peak brightness of 2500 ANSI lumens. This guarantees an unmatched visual experience in any distance and lighting condition even in the daylight. This is definitely your quality outdoor cinema.
Your Viewing Experience A Lot Smoother with MEMC
Featuring Motion Estimation and Motion Compensation (MEMC) technology, Polaris 4K will compensate the motion through the intelligent detection of built-in MEMC. No matter how fast-moving the picture is, It makes the cinematic experience a lot smoother and visually more appealing.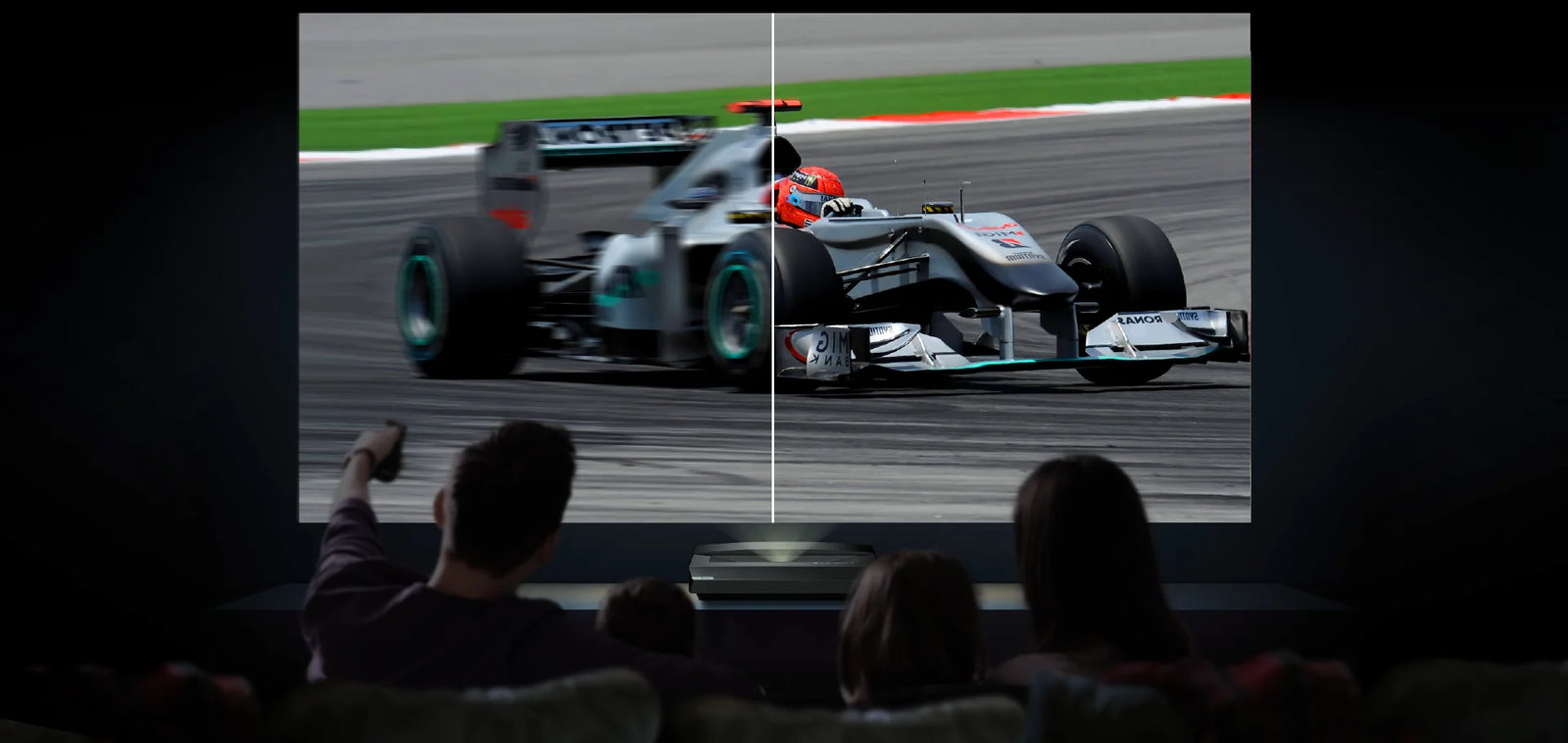 Care Your Eyes Health
Laser TV is featured by its luminescence of reflection imaging,the light does not reach the eye directly.you will not feel eye strains even you stare at the screen for a long time. Polaris 4K has the ability to sense the distance of object,and automatically reduce the luminance within 0.4-1 meter and provide a more healthy watching experience.
Hear the Whole Picture with Dolby
Combined built-in Hi-Fi quality speakers and Dolby DTS technologies, you're fully immersed in 3-dimensional audio that sends sound around and above you with pinpoint precision. Whether a jet zooms overhead or a torrential downpour erupts, the true-to-life sound makes you feel like you're inside the action.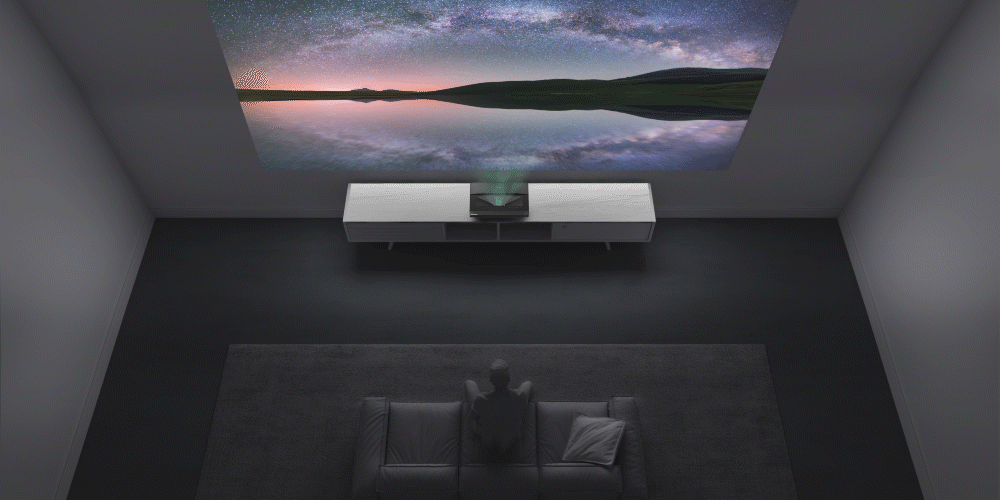 Say Goodbye to Choppy Animations
Built in 3 GB RAM and 32 GB internal storage, adopted the Mstar 6A-838 CPU, basic frequency max 1.7GHz, Polaris 4k laser TV can totally meet the running speed demands and enables you enjoy the smoother viewing experience whether watching a live sporting event, streaming your favorite series, watching a blockbuster movie, or playing a game on a massive screen without choppy animations.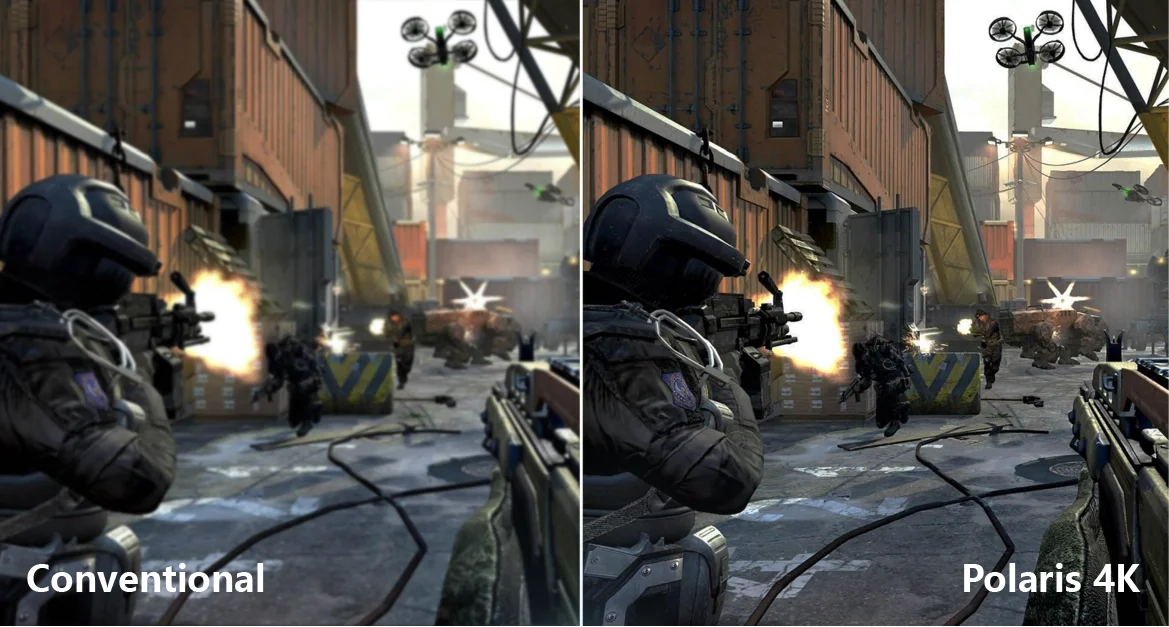 See More Shadow Details Even in Dark Environment
Adopted the latest High Dynamic Range (HDR 10) display technology, Polaris is able to deliver brighter whites and black levels. Bright scenes appear crisp and clear, while dark scenes remained detailed with deeper black levels.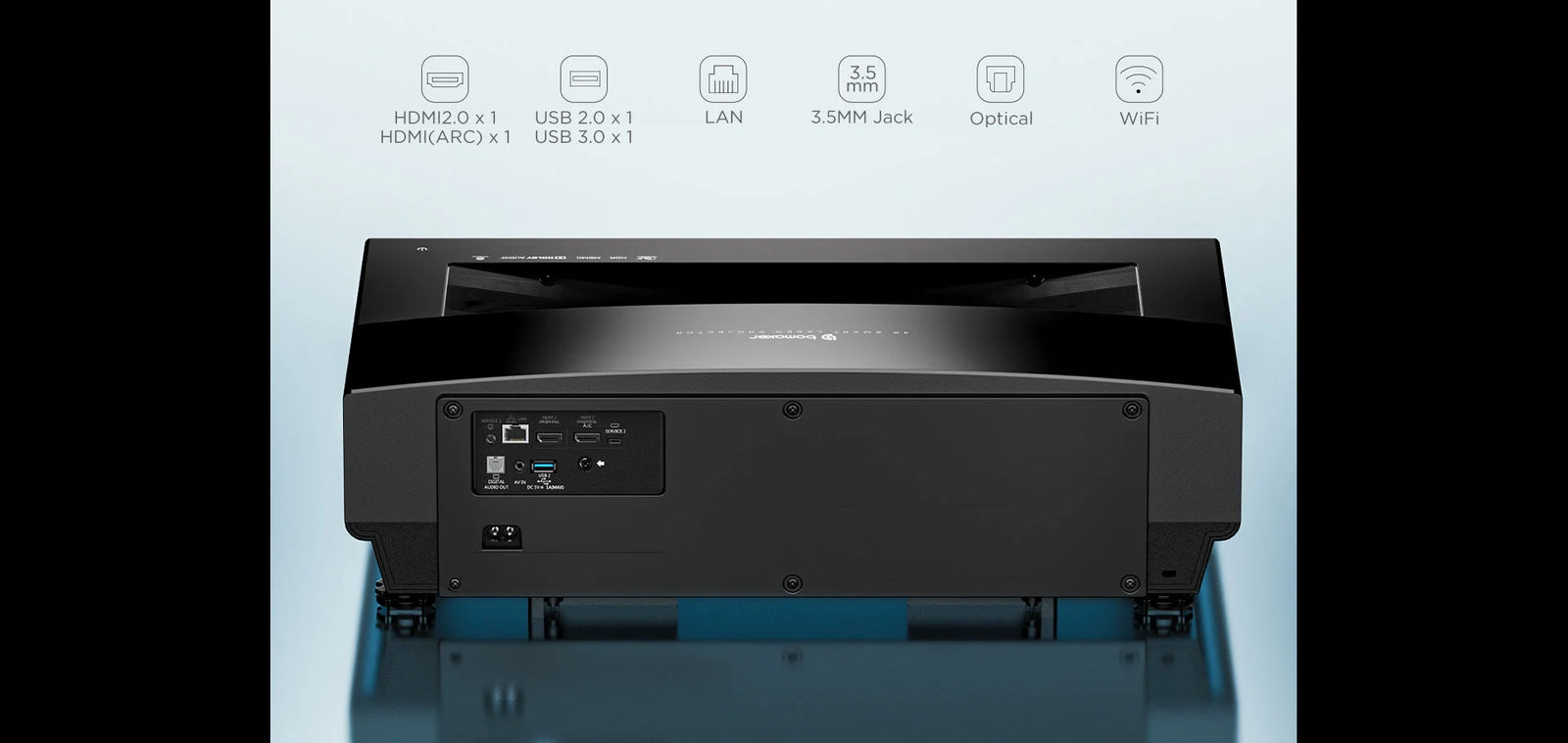 Product Size: 52*33.1*15.2cm
Net Weight: 9.2kg
Package Size: 71.1*50.7*31.6cm
Package Weight: 13kg
Our Price Including all with Door delivery
Warranty: 1 Year